Not just kids, but teenagers and adults also like to watch cartoons. But most of us miss due to the timing issue. If you are also one those who miss favorite cartoon show just because it doesn't air at the time you are free, you can watch cartoon online.
There are few websites that allow people watch latest cartoon TV shows and cartoon movies online for free. If you are not sure where to watch, here is the list of best websites to watch Cartoon Online for free. You can use any of these websites and enjoy your time.
Best Sites to Watch Cartoon Online
Here is the list of few best websites to watch cartoon series or movies online for free.
1. Cartoons On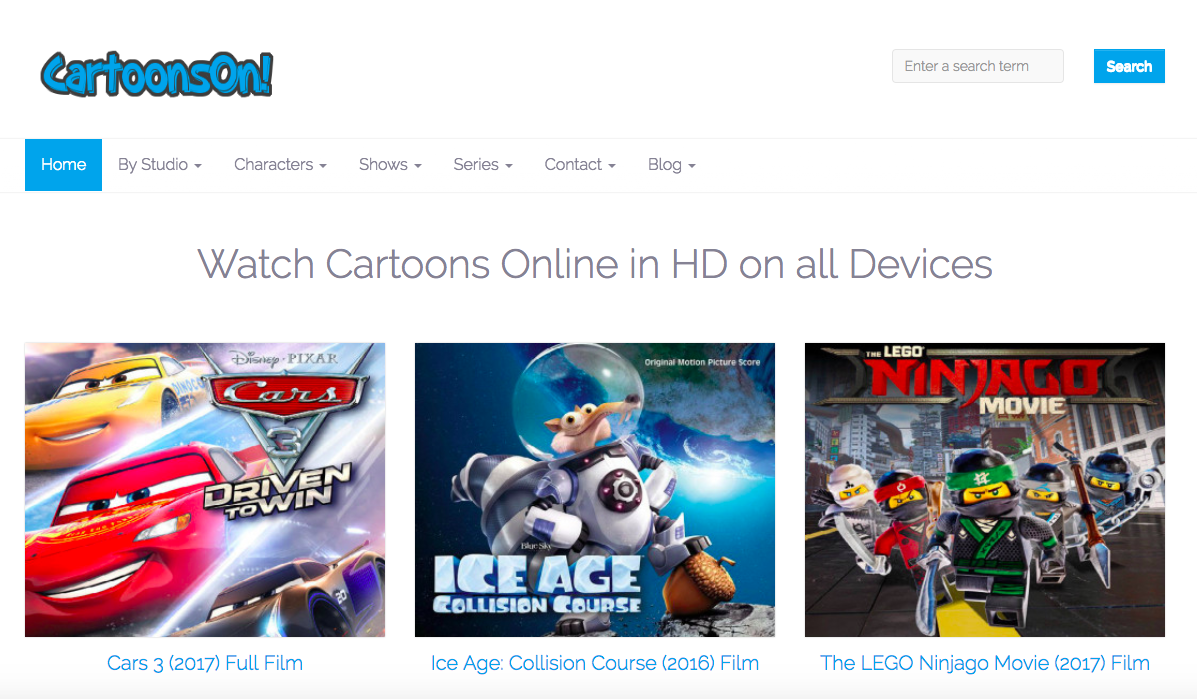 Cartoons On is one of the best websites to watch cartoon movies and TV shows online. It has several cartoon shows and movies in HD formats. The good thing is that it offers filters based on characters, shows and series along with studio. So, filtering cartoons to find one of your choice is easy. Few popular cartoon characters on the website are Tom and Jerry, Bugs Bunny, Mickey Mouse, Spider-Man, The Flinstones, and Batman,
Also see: Mp3 music download free
2. YouTube
YouTube is the most popular destination for videos. A simple search will give you lots of links to videos. You can search hundreds of online cartoon movies and shows available on different YouTube channels. YouTube is free and you will not have to suffer due to irritating ads. So, search for several channels that offer regular cartoon shows and subscribe to never miss an update
3. Disney Junior
As the name suggests, Disney Junior is the website to watch popular Disney cartoons including Micky Mouse, Donald Duck etc. If you love watching cartoons, I am sure you already like many Disney characters. The website is not available in all countries, but you can try VPN to view your preferred cartoon. The website is free and does not show irritating ads. Along with videos, there are also several Disney games to play based on these cartoon chatters.
Also see: Best Proxy Websites
4. GO GO Anime
GO GO Anime is another nice place to watch cartoon movies free. There are also several dubbed versions of cartoon shows. It is available globally, so there is no need to use VPN. There are hundreds of TV shows and movies. So, go and find the one you like.
5. Nickelodeon
After Disney, Nickelodeon is another popular studio for cartoons. I remember watch Nickelodeon channel for watching Spongebob. As the name suggests, this website is limited to Nickelodeon cartons only. If you love Nickelodeon cartoons including Spongebob, The Fairly Oddparents, Rugrats, Square-pants and more, go and try this website.
6. Anime Toon
Anime Toon offers more than 100 cartoon shows to watch for free. These are also categorized for easy access. So, go and see if you have your favorite cartoon on this list. The website includes movies and cartoon series both. You also have option to search by name.
7. WatchCartoonOnline
WatchCartoonOnline is also a worth to mention the website for watching cartoons online for free. There are lots of cartoon shows and movies to watch. The only wrong thing with this website is irritating ads.
Also see: Best Websites for Movie streaming
Final Words
These are few best places to watch cartoon online for free. So, you finally know where to go if you are interested in watching cartoon online. There are lots of other websites with similar kind of content. If you think there is a website that should be on this list, do not forget to mention the name in the comments. I will surely add that to the list.