15 Best Websites to Watch Cartoons Online for free
Not just kids, but teenagers and adults also like to watch cartoons. But most of us miss due to the timing issue. If you are also one those who miss favorite cartoon show just because it doesn't air at the time you are free, you can watch cartoon online.
There are few websites that allow people to watch the latest cartoon TV shows and cartoon movies online for free. If you are not sure where to watch, here is the list of best websites to watch Cartoon Online for free. You can use any of these websites and enjoy your time. Even if you want to enjoy old cartoons you used to watch as kids, this list includes websites to watch old cartoons online for free.
Best Sites to Watch Cartoon Online
Here is the list of few best websites to watch cartoon series or movies online for free.
1. Cartoons On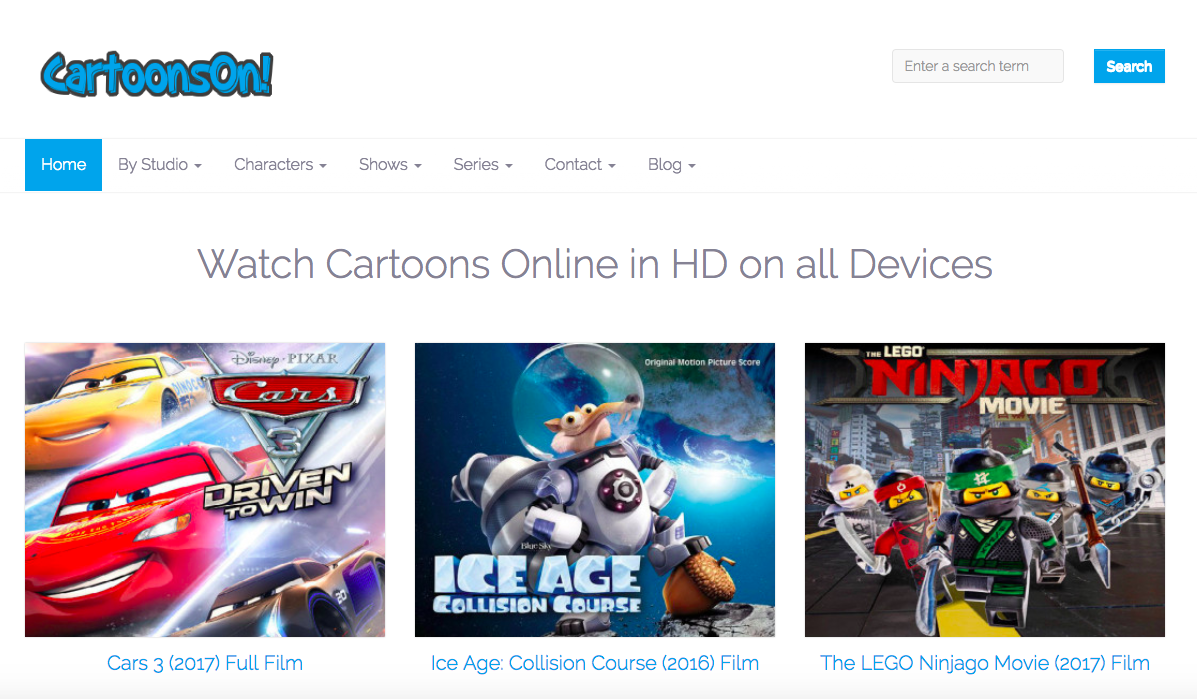 Cartoons On is one of the best websites for watching cartoons online fee. On this website, you can watch cartoon movies and TV shows online. It has several cartoon shows and movies in HD formats. The good thing is that it offers filters based on characters, shows, and series along with the studio. So, filtering cartoons to find one of your choices is easy. Few popular cartoon characters on the website are Tom and Jerry, Bugs Bunny, Mickey Mouse, Spider-Man, The Flinstones, and Batman,
Also see: Mp3 music download free
2. YouTube
YouTube is the most popular destination for videos. A simple search will give you lots of links to videos. You can search hundreds of online cartoon movies and shows available on different YouTube channels. YouTube is free and you will not have to suffer due to irritating ads. So, search for several channels that offer regular cartoon shows and subscribe to never miss an update.
I personally use YouTube for watching cartoons online.
3. Cartoon Network
Cartoon Network used to be everyone's favorite in the 90s because of its awesome cartoon shows. Now the Cartoon Network website offers those cartoon shows. So, you can watch cartoons online for free. There are lots of cartoon videos you can watch for free and several cartoon-based games to play.
4. Disney Junior
As the name suggests, Disney Junior is the website to watch popular Disney cartoons including Micky Mouse, Donald Duck, etc. If you love watching cartoons, I am sure you already like many Disney characters. The website is not available in all countries, but you can try a VPN to view your preferred cartoon. The website is free and does not show irritating ads. Along with videos, there are also several Disney games to play based on these cartoon chatters.
Also see: Best Proxy Websites
5. GO GO Anime
GoGo Anime is another popular website to watch cartoons online. When you open the website, it shows a search page where you can search for anime by keyword. With Home page link, you can go to the main web pages where it shows featured cartoons, cartoon mo, and categories. There are more than 40 cartoon categories to explore different anime series. This website includes cartoon series and movies. There are also several dubbed versions of cartoon shows. It is available globally, so there is no need to use a VPN. There are hundreds of TV shows and movies. So, go and find the one you like.
6. Nickelodeon
After Disney, Nickelodeon is another popular studio for cartoons. I remember to watch Nickelodeon channel for watching Spongebob. As the name suggests, this website is limited to Nickelodeon cartons only. If you love Nickelodeon cartoons including Spongebob, The Fairly Oddparents, Rugrats, Square-pants and more, go and try this website.
7. Anime Toon
Anime Toon offers more than 100 cartoon shows to watch for free. These are also categorized for easy access. So, go and see if you have your favorite cartoon on this list. The website includes movies and cartoon series both. You also have the option to search by name.
8. WatchCartoonOnline
WatchCartoonOnline is also worth to mention the website for watching cartoons online for free. There are lots of cartoon shows and movies to watch. The only wrong thing with this website is irritating ads. The website has easy to understand interface, so kids can also easily navigate and use it.
Also see: Best Websites for Movie streaming
9. SuperCartoons
SuperCartoons is another good website where you can watch old cartoons online. You can watch Mickey Mouse, Donal Ducks, Bugs Bunny, Popeye, Tom& Jerry and many more. If I talk about studios, cartoons from Walt Disney, Warner Bros, MGM, Hanna-Barbera, Paramount Pictures and more are available to watch. You can search for cartoons, characters, and studios.
10. ToonJet
If you love classic websites, ToonJet is the one where you can watch toons online. The website has Looney Tunes, Popeye, Superman, Tom and Jerry, Felix, Betty Boop and many more. This website hosts much older episodes. So, most of the toons are in black and white. This website will surely take you to ages behind.
11. Anime Planet
If you love watching anime, Anime-Planet is one of the best cartoon websites to visit. It offers top lists, search by characters, manga recommendations and more. The website has a clean interface and lets you watch series you want.
12. Fox
Fox is the TV channel that also has its own website where it streams cartoon series such as The Simpsons, Family Guy, Bob's Burgers, and others. If you like any of these cartoon series, you can visit the official FOX website and watch these cartoons online. The website offers a clean interface with no irritating ads.
13. Kisscartoon
Kisscartoon is also a good website that hosts hundreds of cartoons online. You can search by name or watch by genres. If you are looking for a good website to watch free cartoons online, you must check Kisscartoon. It has most of the cartoon series with all the episodes. It even hosts ongoing series, so you can catch all the latest episodes.
14. SuperCartoons
SuperCartoons is also a good website to watch classic cartoons. It has several classic cartoons from Disney, Looney Tunes and Cartoon Network. When you open the website, it will show you a grid view of different cartons. You can use the menu to watch by cartoon, character or studio.
15. New Grounds
New Grounds is a community-driven website where you can watch cartoons series, cartoon movies and play games. It also lets creators upload their cartoons to reach a wide range of viewers.
Final Words
These are a few best places to watch cartoon online for free. So, you finally know where to go if you are interested in watching cartoons online. There are lots of other websites with similar kinds of content. If you think there is a website that should be on this list, do not forget to mention the name in the comments. I will surely add that to the list.
---
---
Similar Articles